30 January 2023
Brighton's brightest gaming studio joins tech community at Circus Street
Industry News, Offices, SHW News
On behalf of U+I, SHW has completed the letting of two floors at Circus Street in Brighton City Centre to Electric Square.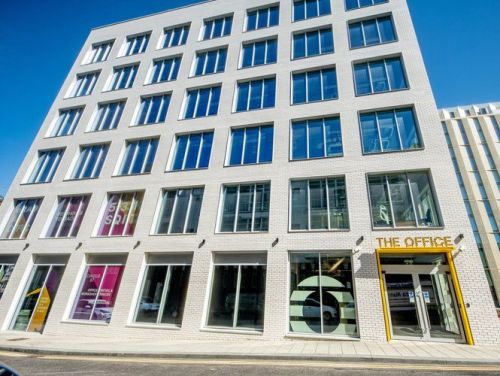 The tech company is the latest to join the award-winning Circus Street development, taking over 10,000 sq ft in The Office as they continue to grow their game development studio. Part of the Keywords Group, Electric Square is involved in internationally recognised brands such as Assassin's Creed, Need for Space, Battlefield and Forza, proving gold-standard development expertise to leading companies around the world.
Emma Ormiston, Partner at SHW, says: "The studio has committed to a ten-year lease in what in what is fast becoming a new creative hub in Brighton. They join Hyve Managed Hosting who have been thriving on the top two floors of The Office since taking up residency last year. Just two floors are now available, totalling 10,300 sq ft."
Nathan Gouveia, Studio Head at Electric Square, Brighton, comments: "We chose The Office at Circus because it's a stunning, modern building based in an exciting new part of the city, surrounded by the buzz of creative organisations, matching our bold ambitions for Electric Square to be the global leader of AAA consoled game development."
The tech building sits at the heart of the enterprising Circus Street community, now alive with the University of Brighton's art college, the Dance Space, home to South East Dance, White Cloud Coffee and Wolfox's soon to open Japanese restaurant Fumi.
Rob Sloper, Development Director at U+I, said: The addition of Electric Square at our Circus Street development in Brighton once again underlines Brighton's place as a global city that attracts world class talent. We always imagined Circus Street would become a new digital and creative hub, and we are happy to see this vision realised with two outstanding industry leaders choosing Circus Street due to its location, award winning design and highly sustainable specification."
The 31,352 sq ft Grade A workspace at Circus Street has a city-leading sustainability rating (BREEAM "Excellent") and WiredScore Platinum-rated digital connectivity. Two floors remain available in The Office, comprising 10,300 sq ft.
The Office sits at the heart of Circus Street, a new mixed-use neighbourhood that has been delivered by regeneration specialist U+I in a £130 million Public Private Partnership with Brighton & Hove Council.
SHW and Knight Frank are joint letting agents for The Office.