SHW take our corporate social responsibility commitment seriously to continually ensure we conduct our business in an ethical way. We aim to do this by taking account of our social, economic and environmental impact and by the conservation of human rights. Our CSR commitment falls into three main categories - Compliance, Responsibility and Implementation. So, what do those words mean to us?

CSR Commitment
Compliance
We are committed to legality. We respect the law, honour our internal policies, ensuring that all our business operations are legitimate.  We commit to keep every partnership collaboration open and transparent, comply with all governing bodies e.g. RICS, RTPI, ARMA Regulations.  We will always conduct our business with integrity and respect to human rights and by promoting safety and fair dealing, a high degree of respect towards the consumer while ensuring compliance to anti-bribery, anti-corruption practices and human trafficking.
Responsibility
Our responsibly is governed around five guiding principles:
1) Protecting the environment
2) Protecting people
3) Commitment to human rights
4) Preserving the environment
5) A commitment to learning
We recognise the need to protect and preserving the natural environment and the SHW Green Committee are held accountable under the ISO 14001:2015 Certification. We strive to reduce our impact on the environment and ensure that we do not risk the health and safety of our employees and the public.  We also are committed to supporting diversity and inclusion and respect each individual and their beliefs.  Through CPD and listening to our clients and employees through client care calls and employee surveys, we continually seek feedback and adapt our operating policies and procedures so they demonstrate our commitment to the above guiding principles.
Implementation
We implement and maintain our commitment to CSR through a variety of policies e.g. Quality Assurance, RICS Professional and Ethical Standards, Equal Opportunities, Ethical Conduct, Health and Safety Policies to name a few. To encourage inclusivity, we have three levels of sponsorship.  So what does this mean?
a) Corporate Sponsorship
SHW Partners choose a property or land based charity to support. Our current commitment is with Pathways to Property, a charity dedicated to promoting the benefits and opportunities of a career in surveying to individuals in under privileged backgrounds. Our involvement includes both financial support and training opportunities which help improve the students knowledge of career pathways and the excitement of working in property.
b) Regional Volunteer Days
We encourage each of our offices to give up a day of their valuable time to by organising and attending local community projects. Some of the examples we have undertaken include clearing out a scout hall in Crawley, supporting the Samaritans at the Eastbourne Air Show, litter picking on Brighton beach and a River Thames clean-up day. 
Figure 1: Surrey and South London teams having just cleared Bearswood Scout Camp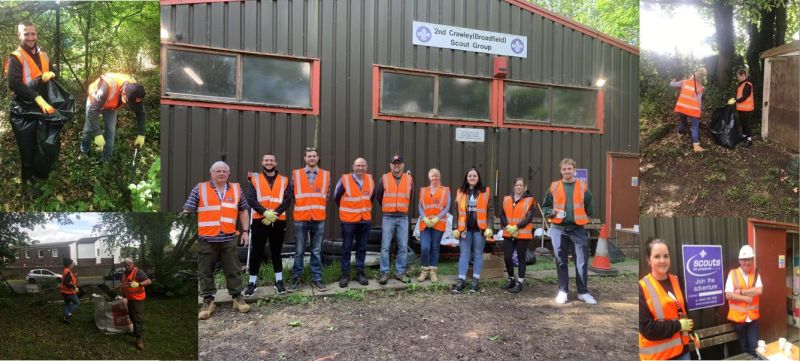 Figure 2: The Crawley/Gatwick office hard at work rennovating a Local Scout Hall
Figure 3: The Brighton office after their Beach Litter pick
c) Partner and Employee Nominated Charities
Every year the staff and partners vote for a nominated charity to support for a two year term. We have a great team of employees who organise fundraising activities throughout the year which everyone can attend to participate in or cheer on from the side lines. Some of the past events include: SHW Great Walk 2022 where family and friends tramped the Surrey Hills for either 8 and 16 miles; badminton, volleyball, hockey, kayaking and football to name a few. All monies raised throughout the year gets matched funded by the partnership to go to our two nominated charities. The 2022/23 charities are:
Campaign Against Living Miserably (CALM) who are in their second year of two
St Catherine's Hospice who are in their first year of two.
CSR at SHW means commitment, and all our activities are co-ordinated through the CSR Committee, which is chaired by the Senior Partner and includes the Managing Partner, Head of HR and an enthusiastic team of volunteers providing a great cross section of all SHW employees and Partners.
Figure 4: SHW and supporters plus dogs at the start of the SHW 2022 Great Walk

Insights
See everything
Filter by: