30 October 2023
Croydon is 'sweetspot' for the country's Generation Rent
Development, Property Management, Residential, SHW News
Croydon has become a 'sweet-spot' for Build-To-Rent (BTR) investment – thanks to its connectivity, proven BTR success and its appeal to those looking for an affordable 15-minute city lifestyle.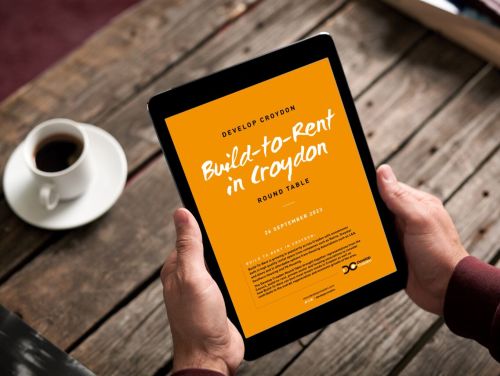 A recent Round Table organised by the Develop Croydon Forum heard from a panel of experts that Croydon's reputation as a housing hotspot would remain secure thanks to its ongoing appeal to 18-40 year-olds who have been priced out of the housing market and want a high-quality place to live with onsite and town amenities.
Panellists heard that the recent rise in interest rates, high deposits, and the nationwide shortage of housing was changing the market, as the younger population were making different lifestyle choices to their parents – opting to rent high-quality housing with easy access to London which gave them flexibility to move easily to allow for employment and/or family changes.
Richard Plant, Partner at SHW Property, said Croydon combined 'the best transport situation in South London' with a massive availability of potential sites due to its historic collection of outmoded office stock.
And Dimitris Tsompanidis, Development Manager at Greystar, said: "when you put the two together …..Croydon is in answering a whole rental demand – people can access quality accommodation at a rental discount versus central London, and still have a similar lifestyle. That's the sweet spot why Croydon works."
Abigal Heraty, Development Manager at Amro Partners, put the case for the investors.
"It's guaranteed investment. Croydon has a track record of delivering Build-To-Rent , the planners know and understand. And I agree there has been a shift in culture since COVID. Graduates moving to London no longer feel the need to live in Zone 1 and 2. They want to live in a 15-minute city and as long as they can get back into central London to do their work, and as long as their little 15-minute city has green space, a few bars, restaurants, that's enough. People don't always want to be going into central London at the weekend."
Build-To-Rent has been growing in popularity across Croydon for several years with investments both in high quality rental space from companies such as Native, Greystar and Amro and in affordable options from Housing Associations such as L&Q, Southern Housing and PA Housing.
The panel consisted of a group of experts, including Max Farrell FRSA, Founder & CEO at LDN Collective (chair); Ronan Farrell, Head of Design at Tide; Dimitris Tsompanidis, Development Manager at Greystar; Abigail Heraty, Development Manager at Amro Partners; Richard Plant, Partner at SHW Property; Sam Carr, Operations Manager at Macar Developments; Mike Saunders, CEO & Co-Founder at Commonplace.
They emphasised that demand for Build-To-Rent in Croydon was already high and is only likely to go higher due to the UK's housing shortage, combined with the additional draw of Westfield once it goes ahead, as it remains 'Croydon's biggest opportunity to scale up its regeneration.'
The also agreed that creating communities would e as important to a successful future for Croydon as the buildings themselves – streetscape, public art, green space, a safe environment and key routes between train stations to ensure accessibility as well as re-zoning to make travel to London cheaper.
They also wanted to see post-occupancy evaluation in order to better understand the occupiers and their behaviour in order to influence the future of the schemes and their design.
For more information and advice on the Private Rented Sector, please contact Duncan Bannister.