21 September 2023
SHW Summer of Sports - Tennis 2023
SHW News
Looking back with a wistful sigh at what could ultimately prove to have been the last hurrah of the summer sunshine, SHW's 2023 Charity Tennis took place under a blanket of blue sky at Kingswood Tennis Club in aid of SHW's nominated 2023 charities Campaign Against Living Miserably (CALM) and St Catherine's Hospice.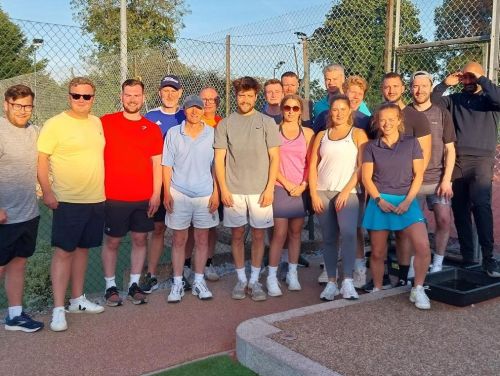 With all players limbered up and ready to go the rules were proficiently explained by Flaminia Gold. The format of the tournament ensuring matches were tightly contested whilst remaining encouraging for all abilities.
The SHW DaVinci Code of Tennis rules did initially bring about a number of blank stares and left a few minds buffering as they bounced onto the courts, however, with the first round of games having commenced the rules clicked into place and some free flowing tennis followed.
Those who weren't otherwise aware of this prestigious staff event could have been forgiven for mistaking this for an early round of a Wimbledon Doubles Championship such was the standard of play on display. Perhaps the only tangible give away being the splash of colour and fashionable flair to the players on-court attire.
Noteworthy mentions to Peter Coldbreath who didn't miss the opportunity to rep the textbook shade of SHW orange whilst Daud Sadiq opted for something of a Hip-Hop/Rap ensemble, strolling onto court in an all black tracksuit without so much as a bead of sweat in 25 degree heat. The only missing element from Daud's arena entrance being the tannoy system blasting out a rendition of the 2018 comedic rap ballad "Man's not hot". Whispers circled that Daud was concealing his performance enhancing bionic arm and mechanical serve by repping his long sleeve top whilst 'warming' up in the sweltering heat.
On court, a merry jamboree of partner swapping between each round ensued amongst a full repertoire of ground strokes and serves across both clay and grass surfaces. The sunshine and performance levels weren't the only elements raising the heat with such cries as "put that in your pipe and smoke it" giving a flavour of some of the on court encouragement being offered up to those on the opposing side of the net and adding a few extra degrees to the on court temperature.
With all rounds having been competitively played out the tennis code was decrypted and scores totted up in a bid to determine a winner on account of the player with the greatest number of overall games won. The official adjudicators ultimately announcing a three way tie leaving Robin Howland, Harry Pleece & James Griffiths to peel themselves from the suitably cushioned outdoor furniture to once again take to the prestigious Kingswood show court.
Further rules having been administered, the resulting singles tie breakers saw Blue Teams' James Griffiths blow away both fellow challengers one by one to take the Championship, channelling Nick Kyrios with some mystical under arm serves. Leaving Harry Pleece and Robin Howland to play out a tightly contested match up to ultimately crown an Orange Team winner.
Blue Team Winner – James Griffiths
Orange Team Winner – Harry Pleece
A fun and well organised afternoon of tennis played in great spirit followed up with pizza, cake and an open bar to top off the afternoons proceedings. Some sizzling table tennis was also rumoured to have been witnessed in the aftermath but sources remain unconfirmed. Could it make its way onto SHW's 2024 summer of sport fixture list, time will tell.
Special thanks to Kingswood Lawn Tennis Club for hosting and Alex Gale and Flaminia Gold for organising an afternoon of late summer fun in aid of SHW's nominated charities.