The opportunities for investors and developers around Crawley were highlighted this month at the Invest Crawley Investor Tour.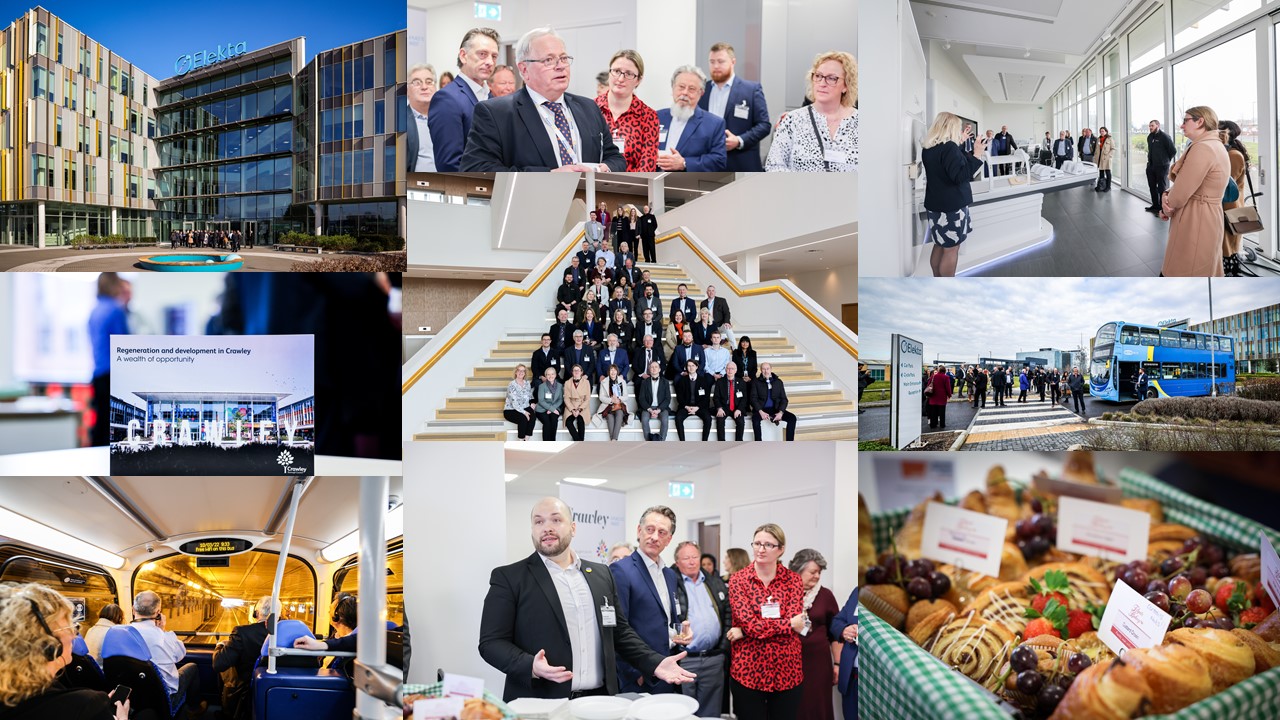 Returning after a two-year absence, more than 50 VIP guests headed to SHW's town centre office for a networking breakfast and opening speeches from SHW Senior Partner Adam Godfrey and Leader of Crawley Borough Council, Councillor Peter Lamb, who said the public sector was "doubling down on Crawley as being one of the best opportunities for growth" and expressed how the council was willing and wanting to work with businesses, and asked them to come and work with them.
Guests then boarded a special Metrobus service – after visiting nearby Global House, which has an excellent EPC B rating, and electric vehicle charging points which can be expanded depending on occupiers' needs alongside other efficiency measures – for a tour around Manor Royal Business Park and towards Gatwick Airport, guided by Mr Godfrey and Manor Royal BID's Executive Director Steve Sawyer. Gatwick's Head of External Engagement and Policy, Alison Addy also gave an update on the Airport's 2022 plans as the bus drove past the runway.
Delegates heard about the demand for high-quality office space that occupiers were looking for in Crawley – including the new, nine-storey, Create Building which is housing the council's new Town Hall alongside 77,000 sq ft of Grade A, flexible, commercial space available later this year, as well as the benefits of its location being placed so close to Gatwick and only a short train ride from London.
While on Manor Royal – one of the largest business parks in the UK with 9 million sq ft of business space, 600 employers and 30,000 employees – the tour made a stop at leading radiation therapy solutions innovators Elekta's global headquarters in Linac House, who showcased their cancer care facilities to guests, followed by refreshments and networking.
VIPs also passed Panattoni Park, the 202,000 sq ft Manor Royal development due to complete in 2023, being constructed by newest Invest Crawley partner Panattoni.
The VIPs then returned to Crawley town centre on the Metrobus, taking in some of the development taking place on the outskirts of the town, before taking a walk through the town centre, led by Crawley Borough Council's Economic Regeneration Manager Lynn Hainge to explore the opportunities available to investors and developers.
The tour closed at Crawley College, where Paul Rolfe, Director of Commercial, Sales and Marketing, updated VIPs on the College's plans for the future, and how partnership working with some of the area's largest employers was creating opportunities for young people in the local area.
Clem Smith, Crawley Borough Council's Head of Economic and Environmental Services thanked guests for their attendance and gave an update on the council's economic recovery plan and the Crawley Growth Programme. A buffet lunch was then held at Fifty Eight Restaurant – the College's on site restaurant, where all food was cooked and served by talented students.
Adam Godfrey, Senior Partner at SHW, said: "It was great to see the Crawley Investor Tour return and be able to showcase and highlight the impressive amount that has been going in the borough to so many VIPs. Hopefully this kick starts even more conversations as we all continue to work towards a brighter future with our partners."
The Invest Crawley programme is a partnership between Crawley Borough Council and key stakeholders. Partners of the initiative include Kier, Gatwick Airport, Manor Royal BID, Panattoni and SHW.