23 February 2022
Mark McFadden's 35 years at SHW
Commercial, Industry News, Professional services, SHW News
Adam Jordan, Head of SHW's Eastbourne office, presenting Mark McFadden with a bottle of champagne to celebrate Mark's 35-year work anniversary at SHW.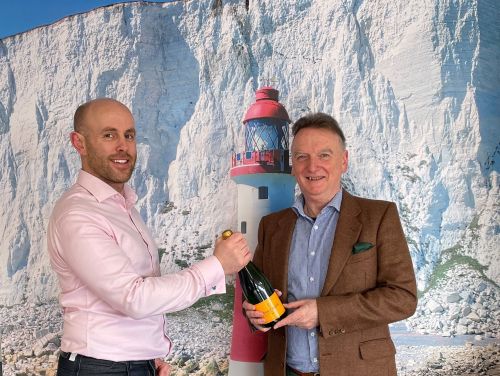 Adam Jordan commented that "Mark has been a highly valuable member of the SHW team during this period and is a well-known and highly respected figure in Eastbourne and East Sussex, both through his work at SHW as well as with the Eastbourne Chamber of Commerce. He has a wealth of knowledge across the different property sectors in Eastbourne and East Sussex, as well as having a substantial and loyal client base in the area.
Mark commented that " He has seen a number of significant changes in the property market and working practises over the last 35 years, particularly on the IT front, where mobile phones did not even exist when he first started. Rents and capital values have also moved on significantly in that timescale allowing for significant new commercial development in the area, all contributing to making it a highly enjoyable time with SHW.