1 October 2021
MRP TO BUILD THIRD BRIGHTON OFFICE SCHEME
Business Space, Commercial, Offices
Developer MRP has received planning consent to build its third office scheme in Brighton, following the success of CityView and The Brinell Building. The Portland Building, on the corner of Church Street and Portland Street, will provide 30,000 sq ft of Grade A, sustainable office space over four floors.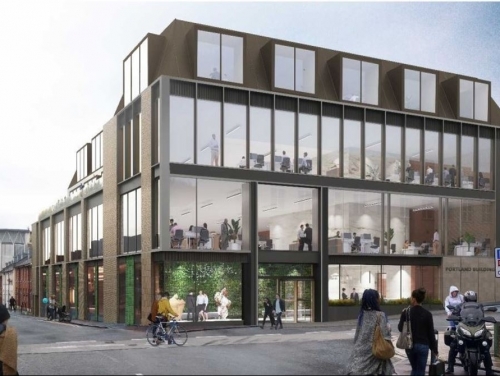 The scheme will feature a communal roof terrace, 46 cycle spaces, shower facilities and air-conditioning, while its environmental credentials include photovoltaic roof panels and internal and external green walls.
Construction work is expected to take around 12 months. In the interim, the formerly derelict site has been given a colourful makeover, with pupils at Middle Street Primary School providing the inspiration for the Brighton-themed hoarding around the site.
Community arts organisation Art4Space asked the schoolchildren to explore what makes them proud about living in Brighton. Their ideas – ranging from chip-eating seagulls, a mermaid and Brighton pier to images of diversity and inclusivity - were translated into 48 paintings for the hoarding.  
Martin Clark of SHW, sole letting agent on The Portland Building, added: "This scheme will bring much-needed high-quality offices to a city in which a significant proportion of the existing stock is poor quality. It is vital to rejuvenate stock for the benefit of Brighton's future economy, and MRP has a proven track record in delivering the type of office space that Brighton occupiers require."