17 December 2020
BRIGHTON PREPARES FOR A BRIGHTER FUTURE POST-COVID
Commercial, Offices, Professional services, SHW News
Covid-19 has had a major impact on all aspects of our lives and one big change is how we use our office space. Whilst it's too soon to say what new trends will appear, occupiers are undoubtedly keen to get back to the office in one format or another, and Brighton is ready to welcome them.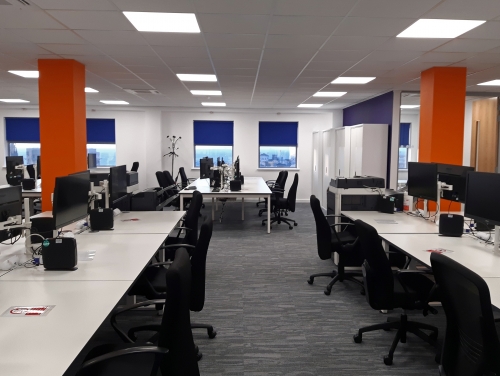 Many organisations are looking at hub-and-spoke models and want top quality space in commuter towns like Brighton to provide offices for collaboration without the perspiration, time and expense of the daily commute.
This month, SHW has moved into its own new offices in Lees House that will provide staff and clients with an attractive base in Brighton. It is also actively marketing new schemes in the city centre and advising developers on future additions that will help meet anticipated demand. 
A good example is U&I's Circus Street development. Nearing completion, it will provide 30,000 sq ft of offices with BREEAM 'excellent' and WiredScore 'platinum' ratings, and a roof terrace offering unrivalled views over the city and the sea. The space is both well-connected and promotes wellbeing. 
Edward Street Quarter is well under way and, by Q4 2021, will have 110,000 sq ft of office space ready for business, complemented by a new living area with retail and leisure amenities.  With its roof terrace, open squares and sustainability features that include bird boxes for biodiversity and 300 solar panels for cleaner electricity, Edward Street has much to offer the modern occupier.
SHW has also acquired a 0.25-acre site in Church Street for MRP, the developer behind City View and The Brinell Building, which plans a 30,000 sq ft office scheme called The Portland Building. Its green credentials include a BREEAM 'excellent' rating, two green walls, a roof terrace that is also biodiverse and photovoltaic cells.
At 9-12 Middle Street, permission has been granted for 30,000 sq ft of offices by Morgan Man, with details being finalised.
All these schemes show a great commitment to Brighton, not just for leisure and living but also for business.  At SHW, we look forward to welcoming new businesses and providing better quality space for those already in the city. 2020 may have been a challenge for many, but Brighton's future is looking exciting.