18 May 2023
Develop Croydon's Investor Tour showcases the borough's growth and upcoming regeneration
Development, Industrial & Logistics, Industry News, SHW News
Develop Croydon's 23rd Investor Tour on 11th May provided attendees with an exclusive look at Croydon's history and showcased the borough's burgeoning development opportunities.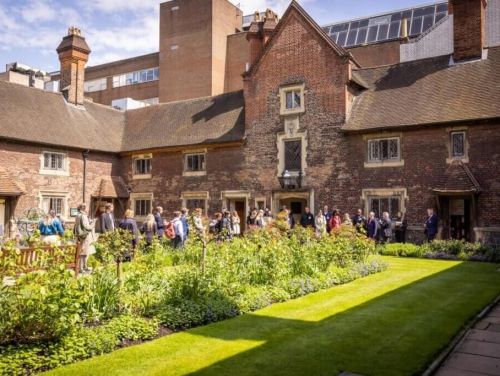 Starting at BoxPark Croydon, the tour began with introductions from Richard Plant, Develop Croydon Forum Chair and Partner at SHW; Bonnie Stephensmith, Develop Croydon's Associate Director and Associate Director at White Label; Vanessa Clark, Managing Partner at Chase Sinclair Clark. 
Richard Plant said: "Today is about challenging preconceptions you may have about Croydon and demonstrating not only has it massively changed for the better, but the best is still to come. Indeed, there are still opportunities waiting for the right parties but they are going fast."   
The first stop on the tour was Ruskin Square, a landmark East Croydon development by Schroders Investment Management Ltd and Stanhope Plc promising a home to HMRC and The Home Office. 1,250,000 sq ft (net) of new accommodation, up to 625 residential units and 100,000 sq ft of retailing, cafes and restaurants are planned.
Moving forward, the group heard about many developments on the trail including Carolyn House, AMP House, Tide Construction's ground-breaking modular buildings, Corinthian House and Mott House.
Delegates then boarded an electric coach starting at No. 5 Sydenham Road and Canterbury House/Criterion Capital, which submitted a new application for a 13-storey extension including a two-storey roof extension to provide a further 97 units and a pocket park. They then headed to One Lansdowne Road, now bought by Greystar and also saw London South Bank University (LSBU) and Croydon College highlighting the booming education sector in Croydon. 
Then on Addiscombe Grove, attendees observed Croydon's exponential growth through a number of residential and commercial developments including the affordable Pocket Living development, the iconic One Croydon – known locally as the '50p building', Addiscombe Square  the former Royal Mail site recently purchased by Network Rail and the extensive Morello Quarter on Cherry Orchard Road and The Island by Regency Homes. 
The tour continued running north through West Croydon station, London Road forming the heart (or perhaps the spine) of West Croydon; lined with shops, cafes, and restaurants, and threaded with buses. Experiencing the international shopping area and seeing the Croydon Voluntary Action, Zodiac Court which is awaiting a new community garden and cafe and five new flats, Broad Green, Griffin House, Concord House- 126 studio flats, Mayday/Croydon University Hospital and the Caridion scheme. 
Croydon's industrial and logistics industry, centred around the Purley Way was the next port of call, which is fuelled by the growing need for last-mile logistics brought on by the growth in e-commerce delivery. Retailers including Amazon, Argos, Fruitful and Tropic Skincare are just some of the big names occupying space in the region. The area also features Prologis Park Beddington with 213,130 sq ft of industrial space available, and Prologis Park Beddington 2 which has recently secured planning permission for their 4-unit scheme ranging from 12-40,000 sq ft. 
The coach brought attendees back towards the town centre, where Vanessa and Richard highlighted more of the town's rich mix of new and potential development opportunities from the Queen's Quarter and Delta Point, through to UK Border Agency-occupied Lunar and Apollo House and the iconic Saffron Square development.  
Taking a break for coffee at London Square's Sales Suite, where the group networked and heard from the Mayor of Croydon, Jason Perry, about his hopes and vision for Croydon. It was an opportunity for investors to ask important questions about the borough and learn about the engaging leadership there.
The group then headed on foot along Croydon's town centre, passing by Centrale and the Whitgift Centre which has been recently acquired by Unibail-Rodamco-Westfield ("URW"). It completed the acquisition of Hammerson's 50% stake in the Croydon Partnership, a 10 hectare parcel which includes the shopping centres as well as high street retail frontage, office blocks and multi-storey car parks in the heart of the designated GLA Opportunity Area in South London. 
The tour then entered an 'oasis' on the high street, the historic Whitgift Almshouses on the corner of George Street. Built in 1596 by Archbishop John Whitgift as a hospital and school, (with permission from Queen Elizabeth I) the building today serves as residential care with over 100 residents. The John Whitgift Foundation also use land and assets set aside by their founder to generate income that is put back into the community. The Chief Executive, Martin Corney, spoke passionately about the premises' purpose as a safe space and a source of pride for the Croydon community.
The tour continued up towards East Croydon station, then crossing over to Fairfield Halls. Culture and creativity have also been a key component of Croydon's regeneration efforts. Croydon's year as London Borough of Culture 2023/2024 is a significant milestone in the borough's recovery and presents investors with a huge amount of opportunity to capitalize. Fairfield Halls will be the major venue for #ThisIsCroydon events this year.  
Finally concluding with networking over lunch at 69 Park Lane, a landmark building occupying a prominent corner site in the heart of Croydon which has recently undergone a comprehensive refurbishment including new glazing, an enlarged entrance, a gym, café, showers and secure bike storage. 
With its connectivity to London and affordable office and home spaces, Croydon has long been an attractive investment destination. Since the pandemic, Croydon has never been a more attractive prospect for living and working because of the shift in business practices and a desire for a better work-life balance. 
 If you would like to join the next guided investor tour, please get in touch to register your interest at: https://developcroydon.com/events/