4 July 2022
Jll Triathlon 2022
SHW News
A great day was had by all the SHW triathletes who took part in the JLL Property Triathlon at Dorney Lake on Friday 1st July. The sun came out just in time for the teams to step out on the course, and they certainly couldn't be missed in their neon orange kit.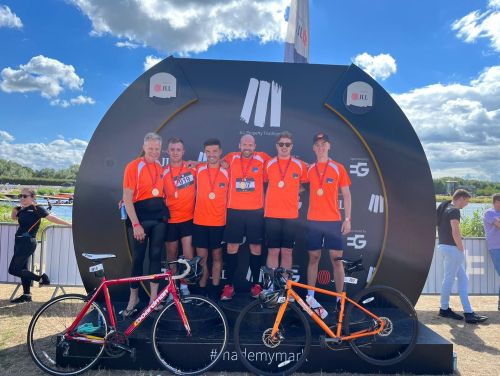 Joshua Aylott and Ian Marshall squeezed into their wetsuits for a speedy 750m lake swim before handing over the baton to Peter Sylvester and Oliver Fallbrown to commence the cycle leg. They powered round a four-lap lake circuit facing some tough headwind until they reached the final transition.

Peter and Oliver passed over to Joe Wilcox and Duncan Bannister who brought us home with some rapid 5k run times. The teams finished 46th and 209th respectively out of 430 teams, achieving 1:16.58 and 1:27.49 overall. Huge thanks to all the staff at JLL and Human Race who made the event possible, and we look forward to seeing you again next year!