18 March 2020
The Charities Act - Granting of a lease and complying with the Act
Professional services
All charities must comply with their duties set out in the Charities Act 2011 (the Act). However, many trustees are unaware of these rules, especially when they are granting commercial leases or assured shorthold tenancies (ASTs). The grant of a lease is treated as a 'disposal' for the purposes of the Act. So, whatever the length of lease, certain procedures must be followed by the trustees before a lease is granted.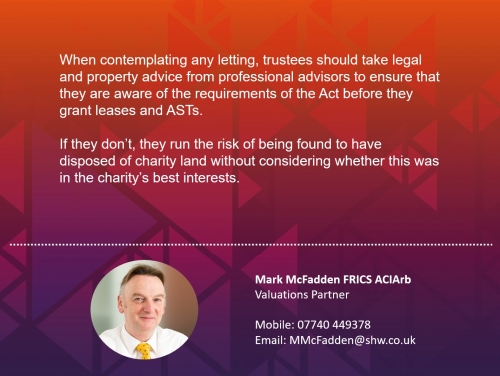 Before granting a lease for 7 years or more, the charity trustees must obtain and consider a written report on the proposed lease from a qualified surveyor, who must be a member of the RICS and have experience in the relevant area.
If advised by the surveyor in the report, they must advertise the proposed letting. The trustees must then decide that they are satisfied (having considered the surveyor's report) that the terms of the lease are the best that can be reasonably obtained.
If the lease (including ASTs) is for a term of less than 7 years, the charity trustees must obtain and consider advice from someone 'who has the ability and experience to advise you competently'. This does not need to be a qualified surveyor and the advice does not need to be in writing. However, using a qualified surveyor would be sensible. Again, the trustees must decide that they are satisfied (after considering the advice) that the terms of the lease/AST are the best that could be reasonably obtained for the charity.
Once these steps have been taken, the lease itself must include the relevant Charities Act statement and/or certificate prescribed by the Act.
When contemplating any letting, trustees should take legal and property advice from professional advisors to ensure that they are aware of the requirements of the Act before they grant leases and ASTs. If they don't, they run the risk of being found to have disposed of charity land without considering whether this was in the charity's best interests.