31 July 2023
THE DEVELOPMENT MARKET REMAINS POSITIVE, BUT AT LOWER PRICE POINT ACROSS THE SOUTH EAST
Commercial, Development, Industry News, Residential, SHW News
Despite higher build costs and debt finance costs, activity remains positive in both the residential and commercial development markets in London and the South East, although at a lower price point then 12 months ago before the start of the interest rate increase and market realignment, according to SHW's Q3 2023 South East Development Focus.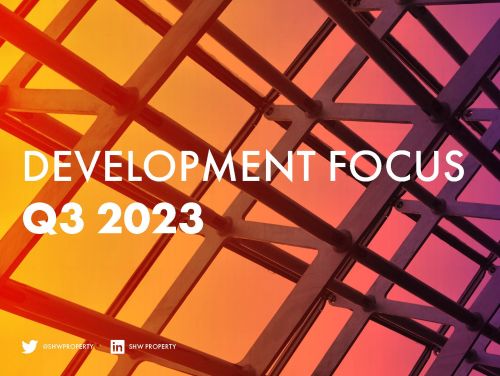 Richard Plant, Partner at SHW says of the residential development market: "Demand for development sites with planning permission remains high due to continued delays in pre-applications and planning applications being processed. In terms of financing/funding, options are limited due to increasing interest rates however, major housebuilders are now reporting that construction material inflation is beginning to ease, allowing them to appraise sites with more certainty.
"House price growth year-on-year has turned negative, according to latest data from both Nationwide and Halifax, although the full effect of the increase in the cost of living, including higher mortgage rates, has yet to be fully seen in the resales market. That said, interest in 'oven ready' sites remains strong with well-priced, unconsented sites also generating good demand, particularly in affluent towns."
In the commercial development market, good demand continues for sites located in prime logistics locations and where planning for warehouse use is guaranteed (as much as it can be!). Tim Hardwicke, Partner at SHW, says: "There continues to be limited demand from manufacturing occupiers, unless specialist manufacturing, as the UK remains a comparatively expensive location. However, despite the changing economy, general occupier demand continues."
To read more and to see the latest residential and commercial land values, the SHW Q3 Development Focus is available upon request.